Every year my friend has his annual Christmas party with Secret Santa.
I have been participated most of this event but I wanted to share this one because it was fun to make!
I found this cool idea of "
3 Mean Way To Wrap A Gifts
"on Instagram while ago.
Then it gave me an idea to do more friendly Christmas related gift which is box of chocolate.
So I used 2 pounds of chocolate to make a chocolate block and slipped in a gift card inside the chocolate for the lucky person to smash through with hammer shaped beer opener which I coincidentally found at Winners.
Materials:
- 2 pounds of chocolate from Bulk Barn
- Gift card
- Mini Hammer
- Wooden letters from Dollerama
- Meatloaf baking tray
- Parchment paper
- Your choice of gift wrap!
Step 1
Wash all material that'll contact chocolate. Gift card(I have it wrapped with cello wrap), and wooden letters.
Place parchment paper inside the meatloaf tray so it's easier to pull it out.
Step 2
With double boil, melt chocolate until everything pieces are fully melted.
Couldn't show you how I put the gift card inside because my hand was full. But once the chocolate is ready to pour in the tray, pour half of the batch in the tray. Then place the gift card in the center and pour the rest of the chocolate.
Step 3
I let the chocolate settle for whole day.
Then you can slide off the chocolate by grabbing on the edge of the parchment paper.
This was about 1.5'' thickness.
From here, you can use cello to wrap your chocolate.
This is extra step I like to do for fun so skip this if you want to save your time.
So I usually make my own gift wrap by drawing on it or try to re-purpose any paper supply I have.
And I keep lot of junk like boxes so I found decent size for this.
And here it is!
Homemade chocolate block with gift card inside it.
It's fun project to do and it's very easy if you don't over think this.
Photo by Jen
Photo by Jen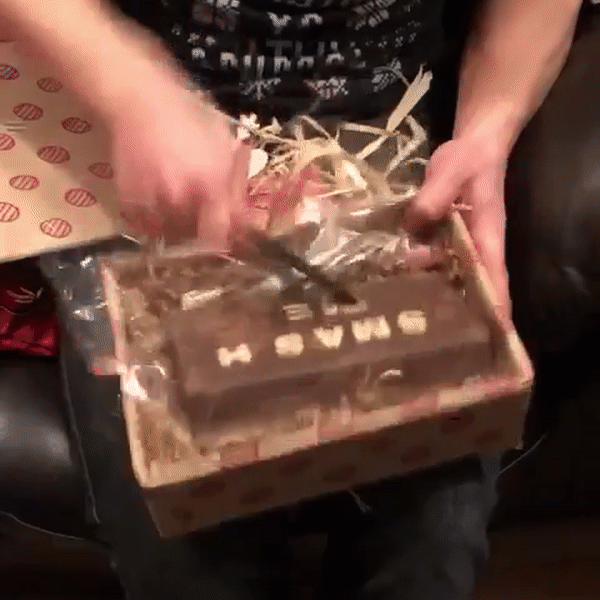 Video by Diana