Last year we bought Christmas tree from boxing day sale to save it for this Christmas.
We would like to take our time to find ornaments that we like to hang, maybe one ornament each person, each year.
So because we don't have that many ornaments to start with, we decided to put our toy collection in good use so we're using Funko Pop instead!
Then I had an idea to make paper crafted Funko Pop tree topper!
Materials:
- Funko Pop logo printed out (logo size: 25cm width)
- Cardboard
- Rubber cement glue
- Scissors
- X-acto knife
- Black paper
- Glue gun
- Craft wires or floral wires
- Black Sharpie marker
1: Glue together printed logo and cardboard with rubber cement glue. Cut out the shape when it's dried.
2: Cut out the "POP!" logo and dialog box.
3: With black Sharpie marker, color in edges of the paper so you'll have cleaner and bolder edge finish.
4: With black paper, trace out the dialog box. Then glue the white dialog box on the black dialog box.
5: Now to have 3d formed dialog box.
With strip of black paper(about 3cm thickness), you will wrap around the dialog box using glue gun to secure.
I take my time to secure it 10cm at a time.
As optional step, you can use glue gun to draw out the wireframe so the trim will be tougher so the edge won't bend as easily.
Unless you're using thicker black paper then you can skip this step.
6: Now making a block to make the "POP!" logo pop out.
With any scrap paper, make a rectangle box(about 2cm thickness) and glue on top of the dialog box.
Do the same with the back so you have something to hook on to from the back.
7: Now you can carefully glue the "POP!" logo on top of the block you made.
8: To hang it on the tree, I used floral wires and made into a hook to hang the logo. And to actually let it stand, I used paper clips to clip the wire to the toughest part of the tree branch to hold it still.
Here is our this year's Christmas tree!
For Funko figures, we used wires to tie them around their neck and twist tie them on the branch. The mushrooms are from IKEA that I bought them long time ago.
From
last years of fun
, Tim wanted to do classic Peanuts scene with this Christmas tree.
All hand drawn by him.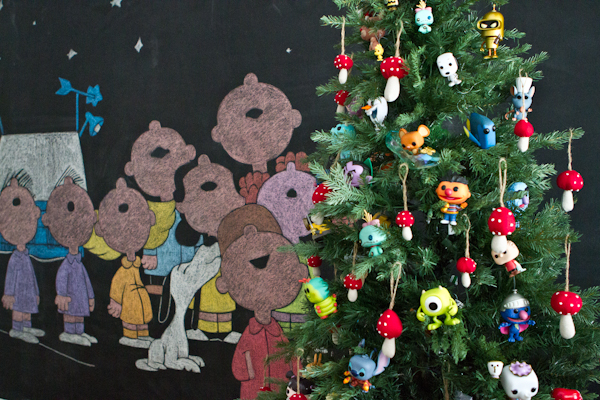 Hope everyone's having fun with their Christmas!
Happy holiday!!